VR – now we can get it right before getting it wrong
Virtual reality technology provides a unique opportunity to construct and convert machines and layouts before they are actually built.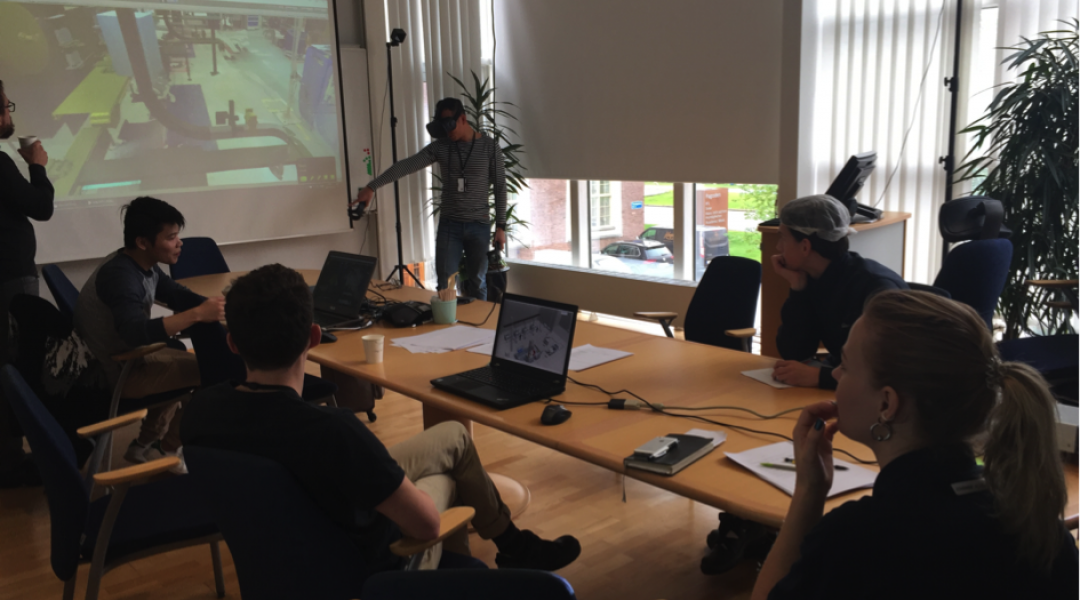 Chalmers has helped Swedish Match to construct a virtual reality (VR) environment based on a line in one of the factories. The objective was to test the technology in our own factory in order to gain a better understanding of the benefits it provides. The tool could also be used in the reconstruction project which was taking place on the line.

Initially, in order to build up the VR environment, the line was scanned. This was done using Chalmers' 3D scanner, harnessing the same technique as a regular laser scanner which measures distance. In the course of seven five-minute scans, the scanner measured up to 117 million points, which combined to form a so-called point cloud. The room was photographed at the end of each scan, enabling every point measured to be assigned a colour. The scanned model was then combined with a 3D model of the new layout which is to be built. This combined model was entered into Unity, the game development program, which enables the new layout to be experienced in a virtual environment using 3D glasses. Dynamic elements, such as the packers' revolving monitors, were also included in the model. The operation was included to test whether there is enough room in order to change a roll of material positioned behind the monitor.
I can see a lot of benefits associated with 3D scanning and virtual reality environments. The technology has been radically improved over the last few years, and there is considerable scope for improvement. The question now is not if, but when we will start using this technology in our day-to-day work.

– Production engineers who headed up the project testing VR on the line.
In order to gain more insight into how the technology could be used, we wanted more people to test it. As a result, we held additional open days and gathered feedback from the majority of departments. More or less everyone who tested the VR environment could see the benefits of the technology. Comments included:

"If a picture is worth 1,000 words, what is a 3D image worth – one million?" – Manager of process development
"In my work, which involves visual presentation of future layouts and workflows, this is a great tool." – Simulation engineer
"It's easy to imagine how the system will work in reality." – Simulation engineer
"It makes it easier to create an impression of the new 'reality'." – Project manager
"I was able to get a good understanding of critical distances." – Machine operator
"Machine operators can also get the chance to evaluate a new work environment." – Machine operator
"Very effective in creating a basis for discussion regarding layout." – Process developer digital solutions
"Easy to use. (Everyone can see just how it will look.)" – Mechanic "Reality isn't far off." – Production engineer
---
Tags
This article is tagged with these tags. Click a tag to see all the articles with this tag.