Skandia Elevator: the family company that drove change by changing both customer and staff
Skandia Elevator is a family company with about 100 employees. The small company makes machinery for grain systems and has developed an app, where the farmer can follow his grain and get operational information. Initially, Skandia Elevator had little contact with its end customer: the farmers, but today, thanks to the development work with the app Grain Cloud, they have contact with 25 farmers who test new features and come with inputs. The effects have been that they have created a digital twin for several different types of grain plants, which allows them to solve operational problems more quickly. In addition, they have changed their entire sales plan, which in the long term will probably affect their product development.
The start of the journey - an idea grows
In 2016, Joakim got in touch with an IoT strategist, who told him about Scania's way of solving its connection in the trucks. The truck drivers got a software that coached their way of driving. It was not just about the truck owner being able to get a better control of service, maintenance and the truck fleet itself, but a customer value was added for the drivers. This aroused the thoughts of Joakim; "I realized that I had to go to the farmers and ask them what they would like in terms of connection and mobility." If he had focused on Skandia Elevator's benefit, Joakim is convinced that there would have been no IoT journey. Every year he has managed to take a step forward to gradually overcome obstacles and build on the solution.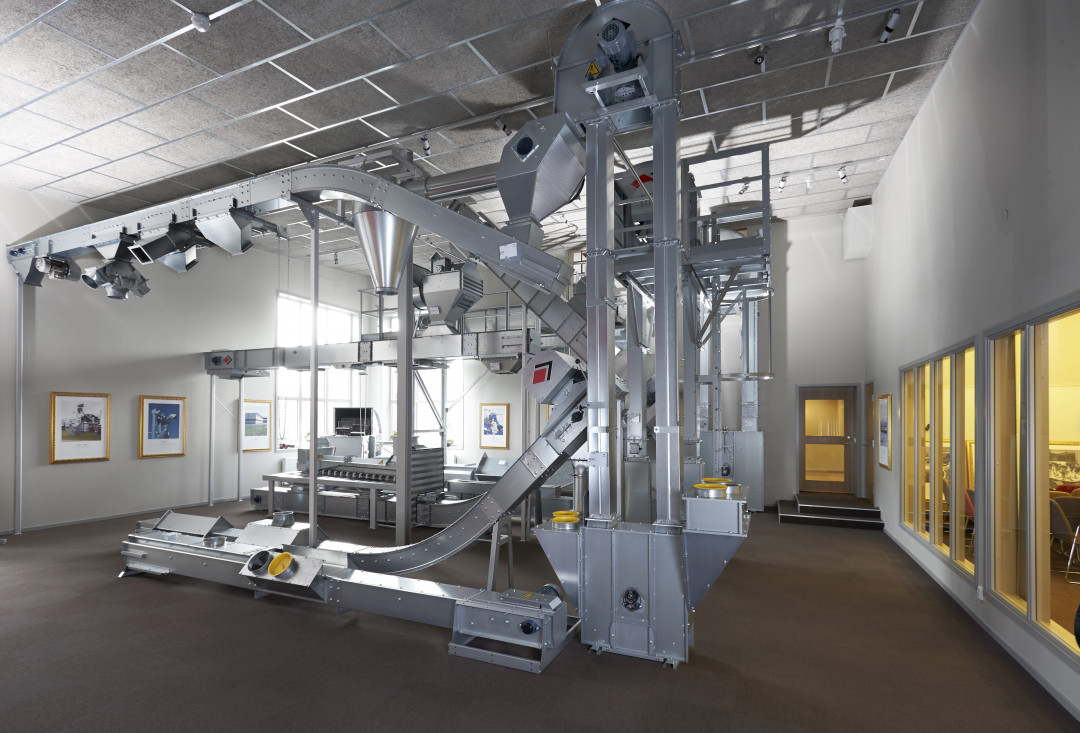 Digitization journey
The contact with the IoT strategist led to the development of the ideas and the internal work took off in 2017. In the fall of 2017, they sold the solution to the five largest suppliers and with help from an advertising agency they made a commercial for one of the three farmers from the test case. Skandia Elevator produced the film because they realized how difficult it would get the suppliers involved, as this was a question for the future. Through the film, the dealers could easily understand how important this was. They produced the film so that it would be impossible for the farmers to say no.
Another step was to engage the sales team, Joakim was then sales manager himself and had contact with the customers. After that, a new sales manager was hired, so in 2019 they have worked extensively with the sellers to increase their knowledge and understanding. The digitization solution was difficult to sell because the sellers are not used to sell software. A machine is a physical product, it is easy to understand, but a software it is not as easy to understand. In addition, since the sellers at Skandia Elevator did not have as much contact with the farmers, it was difficult to understand and explain what benefits the farmer would gain by buying the software.
Skandia Elevator also had to take on software development as an add-on to product development. Skandia Elevator has the knowledge to drive hardware development, but this was something completely new. What they have learned will in the long run affect their hardware development. Skandia Elevator has also included its customers in this development; the customers participate in Skype meetings and collaborate remotely, to do their bit. With the software development, the company also gained a new iterative approach. The new thing about software is that you release a small part that works in the market at a time. This way, there is always something out there with the user, which they receive feedback and interaction about, so it becomes a completely different way of developing.
What are the most important lessons / tips for others?
Get partners who understand IoT, machine learning and that data is the gold of the future.
Access the user and find out their pains and gains. Try to deliver a software that minimizes pains and maximizes gains.
An iterative approach: the user does not know what they want, and Skandia Elevator did not know what to deliver. "It was fortunate that we learned it, otherwise we would have been working for several years to develop a software and then when we released it, it would not have been right," says Joakim. The user dialogue cannot be achieved without that process. It is crucial that you know what the farmer's pains and gains are, because the user cannot translate them into finished solutions, but you as a developer must try to solve them step by step (what you think you have understood). It is a learning process and at the same time the user is developing
Det var tur att vi lärde oss det, annars hade vi hållit på i flera år och ta fram en programvara och sedan när vi släppte den, så hade den inte varit rätt

– Joakim Larsson, VD Skandia Elevator
Användardialogen går inte att få till utan den processen. Det är avgörande att du vet vad lantbrukarens pains och gains är, för det kan inte användaren omsätta i färdiga lösningar utan det måste du som utvecklare försöka lösa stegvis (det du tror att du har uppfattat). Det är en lärandeprocess och samtidigt utvecklas användaren!
---
Tags
This article is tagged with these tags. Click a tag to see all the articles with this tag.