Additive manufacturing at Sandvik
Sandvik is a Swedish company with a history from 1862 and they have taken the step into additive manufacturing. With a broad material program for additive manufacturing and leading functions across the entire value chain - from metal powder to finished component - they can accelerate the industrialization of additive manufacturing and take it to the next level. This article gives examples of some different product solutions they have developed using additive manufacturing.
Below is a description of four different products that Sandvik has developed where additive manufacturing has been used:
CoroMill® 390

CoroMill® 390 is a versatile industrial system with cutter versions for shoulder milling and long edge milling. The development of the additive version of CoroMill® 390 has been like an evolution.
New design versions have continuously evolved and developed into something quite different from what the customer and Sandvik's additive project team expected when the project started.
To reduce weight, the product was topologically optimized – and as a next step the material was also changed into a titanium alloy, using powder bed fusion laser as the printing technology.
As a consequence, the mill cutter body weight was reduced by more than 80%, without compromising strength. Bringing down the weight at the end of the milling assembly significantly reduces vibration in the system. In the case with CoroMill® 390, the precision light-weight design limits vibration and smooths cutting performance – increasing customer productivity by 50–200%.
With the new light-weight version of CoroMill® 390, produced with additive manufacturing, the weight of the cutter body is reduced by > 80%. Combined with new Silent Tools™ milling adaptors, this is an exceptional tooling combination for slender tooling. The solution limits the vibration tendencies and enables high productivity and good process security in demanding applications, says Thomas Wikgren Product Manager Shoulder Milling, Sandvik Coromant.
CoroMill® 390 is a great example of how Sandvik work closely with customers to develop the most optimal additive solutions. In this case – thanks to Sandvik Coromant's leading expertise in metal cutting and our expertise in additive manufacturing, we step-by-step, tweaked, tested, and truly re-invented this product with radically increased end customer value.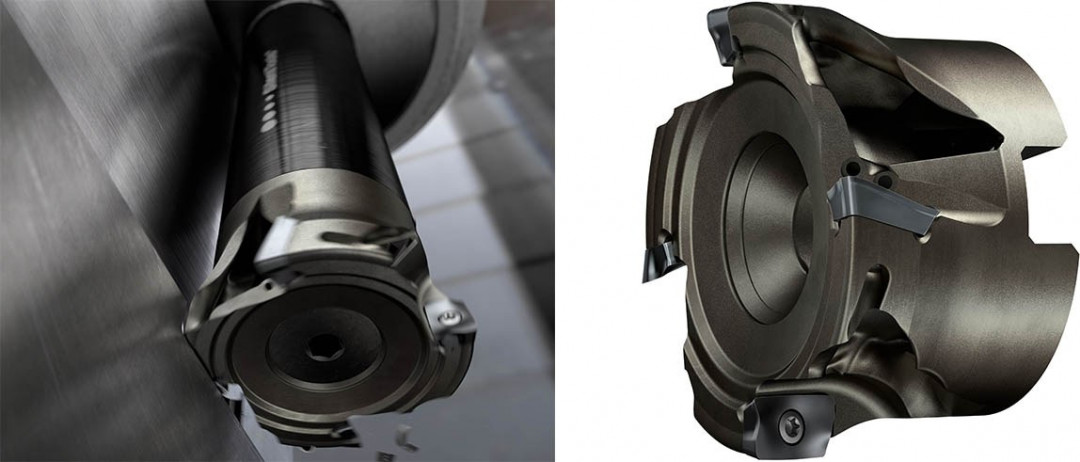 Seco clamps
The Seco Tools coolant clamp attaches to the cutting edge of industrial turning heads. Coolant flows through the clamp, cooling the cutting edge and controlling the waste chips produced.
Additive manufacturing allows an improved design for easier insert indexing and handling, which reduces down-time and boosts productivity. Curved internal channels – which would be impossible to drill but possible to print – improve high-pressure coolant flow to the cutting edge.
We see many more opportunities with the unique AM-technology for other parts of our product program.
Additive manufacturing (AM) also means that multiple jet hole sizes are easily supported. The resulting optimized coolant flow improves the life of the tool and provides a higher level of chip control, which also contributes to productivity improvements. Printing the logo as part of the component turns an otherwise cosmetic feature into a support structure.
The AM-version of the cooling clamps of the Seco JET GL Turning Heads offers many advantages. Quick and easy insert indexing reduces down-time and improves productivity. It also makes it possible to apply the high-pressure coolant straight to the cutting edge, which improves both tool life and chip control.
We see many more opportunities with the unique AM-technology for other parts of our product program," says Jonas Thuresson, Senior R&D Engineer – Turning Products, Seco Tools.
LKAB Wassara
The LKAB Wassara sliding case is used for water-powered, down-the-hole hammers. Unlike traditional manufacturing, additive manufacturing allows the two parts of this sliding case to be merged – and created as a single unit.
Re-thinking design and looking at the complete supply chain is a key aspect when working with the Sandvik additive team. For LKAB Wassara this resulted in reduced assembly, more cost-efficient production and better reliability. Optimized printed water channels increased the overall flow for improved performance.
In this case, additive manufacturing contributed to increased penetration rates and longer service intervals, which together resulted in overall productivity gains.
Additive manufacturing gives us the possibility to optimize the design of our hammers with fewer components and streamlined water channels. Initial tests in production environment made with W70 sliding case from Sandvik show very promising results, indicating improved lifetime and increased rate of penetration," says Maria Bengtsson, Senior Engineer, LKAB Wassara.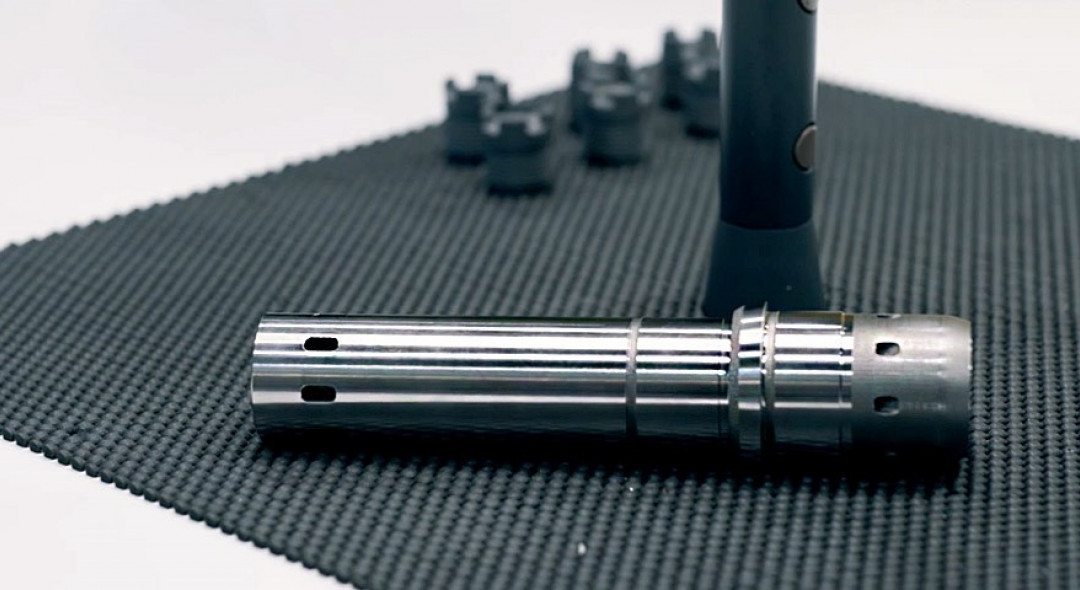 The Varel high-precisionnozzle

The Varel high-precisionnozzles are used to inject fluid across fixed cutter bits. These are small products subject to the extreme conditions of underground hard-rock drilling and extreme hydraulic conditions.
Their sophisticated hydrodynamic design optimizes fluid flow for more efficient cooling and cleaning, leading to faster cutting and evacuation of drill cuttings and optimized hydraulic energy usage. Stability, efficiency, durability and steerability are essential for these components - and the hydraulic capabilities is an enabler to achieve that.
With additive manufacturing we can receive parts faster and can thereby reduce our inventory significantly. Today the nozzles are manufactured with traditional, machining methods, which is a long process with long lead times. For Varel it means that we need to keep a large inventory to be able to serve our customers. With additive manufacturing we can receive parts faster and can thereby significantly reduce our inventory," says Bruno Cuillier, Global Product Engineering Director at Varel.
One of the key challenges in this additive manufacturing development project was to build precision threads in cemented carbide, since deformations occur in the subsequent sintering process. A challenge that the additive team within Sandvik managed to overcome.
Producing Varel nozzles with additive manufacturing allows for customizable options and can achieve 50-70% saving in lead times, which will significantly reduce Varel's inventory.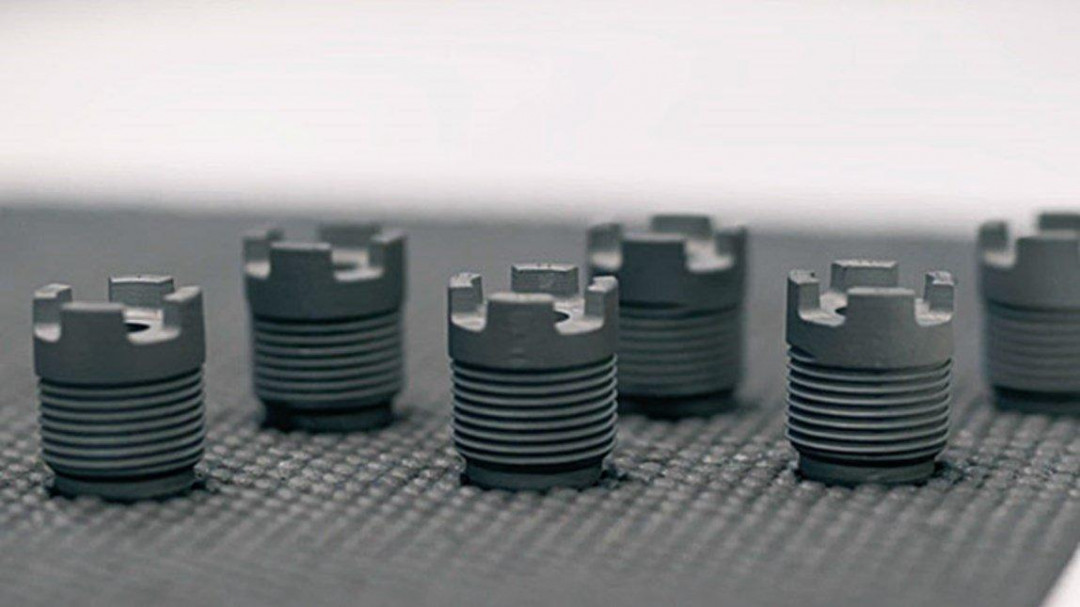 If you want to know more about how Sandviks work with additive manufacturing or if you have any questions, see the link below.
---
Tags
This article is tagged with these tags. Click a tag to see all the articles with this tag.