Exoskeleton is tested by Volvo Group Trucks Operations in Curitiba
Seeking to further improve ergonomics and productivity at the Curitiba plant, the exoskeleton technology is being tested in the FH truck line and in Material Handling.
Connected more and more to the Industry 4.0 the Group Trucks Operations Curitiba plant is testing exoskeletons for manufacturing and internal logistics processes. The aim is to find out more about the benefits of this concept.
Exoskeleton is a robotic suit that perfectly fits the human body to reduce physical wear and improve productivity. On the tested models, the gain focuses on ergonomics and operator comfort in specific movements that can impact legs, arms, shoulders and spine muscles. The Logistics Engineering team, in partnership with Manufacturing Engineering, Material Handling, Production, Health and Safety, Import and Purchasing areas, tests two exoskeletons models in the FH trucks assembly area and in the material kits supply for production. The tests completion is scheduled for September 2018.
The exoskeleton helps to improve the quality of life at work, improves productivity and helps reduce fatigue at the end of the day

– says Erika Ogasawara, from Health and Safety Department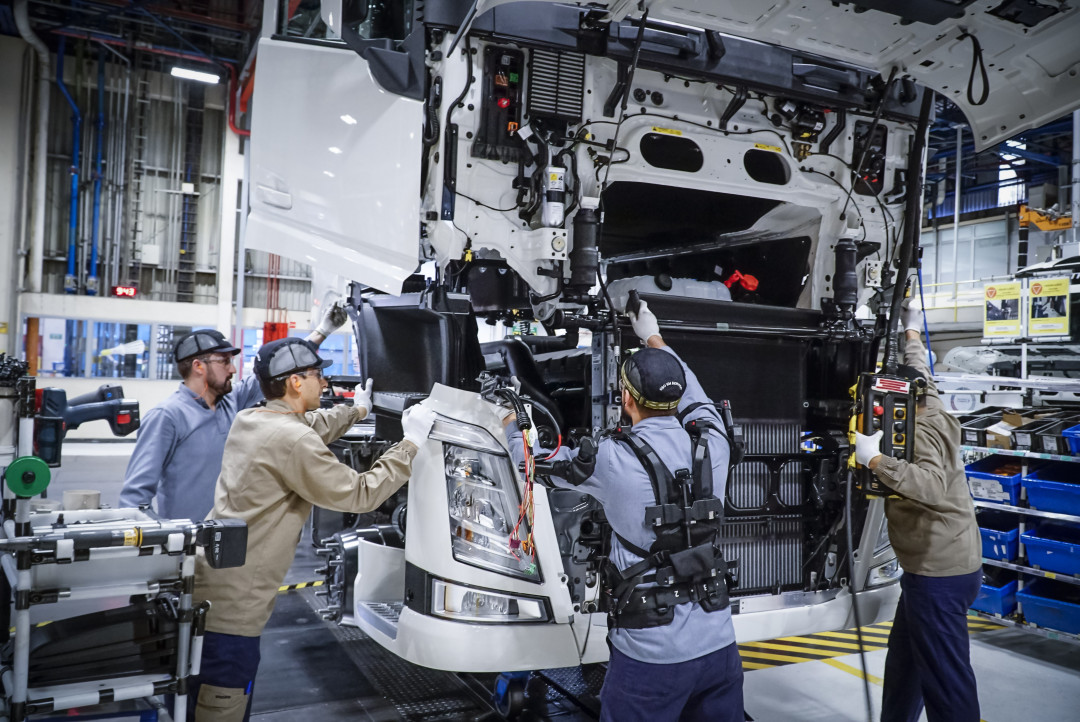 Two models that operate on the employee´s shoulder and spine have been in tests since June 2018. Preliminarily, the tests indicate good results for the exoskeleton usage, which could mean that implementation will be done in other areas.
The exoskeleton, in general, assists the operator in tasks that require greater physical effort or movement. "With the support generated by the external skeleton, physical wear and tear decreases. Repeated movements such as a squat, raised arms and load lifting gain support from the clothing", says Matheus Rebello, from Logistics Engineering.
Anderson Prado, operator at the assembly line, adds "it was a good experience to use the exoskeleton in my process. For a specific assembly, I would sit for a while with my arms raised and the device reduced any discomfort caused in this process. It also reduced my tiredness at the end of the work shift".
For our plant, the exoskeleton is something new, as well as the Industry 4.0 concept. We align these two concepts that are tightly connected to bring benefits to our operators. The whole process, including studies, testing and device acquisition, has been a long journey. We also had a video conference with the supplier to watch them using the exoskeleton, demonstrating some movements

– comments Renata Jabs, Logistics Engineering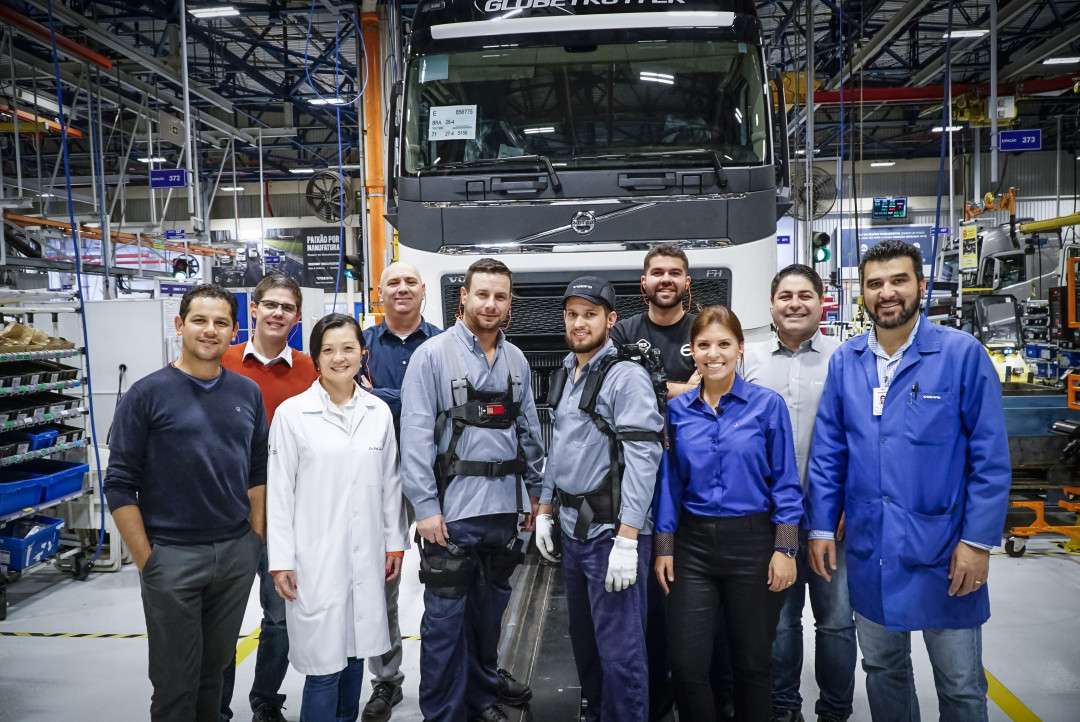 It's a new culture and a paradigm breakdown. We are connecting a device to the human being. This shows that the technology and the exoskeleton come to benefit and assist in the operators' life quality, in addition to keep us in the manufacturing future

– says Henrique Brasileiro, Logistics Engineering
---
Taggar
Artikeln är taggad med följande taggar. Klicka på en tagg för att se alla artiklar med samma taggning.